Client Testimonials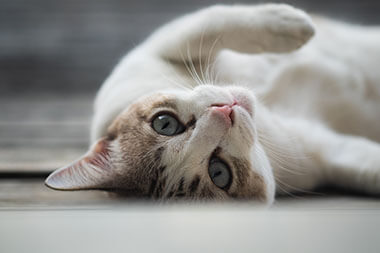 Feb 28, 2019
We have been taking our pets to blue ravine for 10 plus years now and they always treat us with kindness. I wouldn't go anywhere else.
- Monica
Feb 26, 2019
We just started going to see Dr. Sweet @ Blue Ravine. Very impressed by not only the knowledge and explanations in response to my questions by Dr. Sweet, but by Jax the RVT. Everyone was very courteous and friendly. They also contract with Marqueen.
- Caren
Feb 23, 2019
Everyone is friendly, helpful, and knowledgeable. Priceless!
- Suzie
Feb 22, 2019
This was our first visit. Both the vet and her assistant were wonderful. Explained everything they recommended and gave us choices. Also gave costs upfront. We already recommended her!
- Sally
Feb 21, 2019
Amazing first experience with your clinic. This is our first dog and you made us feel welcome, answered all of our questions and took great care of our dog. Plus you called to follow up the next day and answered the litany of questions we had.
- Shari
Feb 20, 2019
Beautiful and clean office, friendly staff, nice waiting room (you feel cared for) and like the flow of check out. Kind and knowledgeable vets. Highly recommend.
- Lynda
Feb 20, 2019
Awesome as always!
- Andrea
Feb 20, 2019
The Vet was kind and knowledgeable.
- Maria
Feb 17, 2019
We are extremely happy with our Bulldog's Vet Dr Wolf and the Technicians there. They truly care about our Fur Kid's health and well being. Definitely the best Vet Hospital for Brachycephalic Dogs.
- Sabrina
Feb 15, 2019
ALL Veterinary Staff members are Exceptional & of course, my Hounds George & Gracie love coming to see Dr Thomas.
- Unknown
Feb 13, 2019
I had an emergency with my Bichon. I called my own vet they told me they were booked. So I called this place they told me to come on down they would squeeze me in they didn't even charge me an emergency visit fee.😀👍👍
- Febe
Feb 13, 2019
Dr. Rivera is a compassionate, intelligent and likable vet! She always speaks plainly for me to understand all available options....conservative to aggressive treatments. She is the BEST & I don't ever want to go anywhere else.
- Lynda
Feb 12, 2019
I understand that most vets and their staff care about all animals, but there is something special about the crew at Blue Ravine! It seems as if each staff member I've encountered is incredibly knowledgeable and so sweet! I highly recommend them!!
- Anna
Feb 11, 2019
You all have a wonderful operation. Your staff is friendly and knowledgeable and your facilities are immaculate! Our veterinarian was absolutely awesome.
- Arthur
Feb 11, 2019
Dr. Rivera was very thorough and sent an email with her findings.
- Alison
Feb 10, 2019
I always receive nothing short of the best care and kindness when I visit Blue Ravine Animal Hospital!!!
- Kimberlee
Feb 7, 2019
We consistently receive excellent care for Sophie. I appreciate that everyone is compassionate, knowledgeable and takes great care of Sophie. Thank you!
- Debbie
Feb 6, 2019
This was our first time to Blue Ravine, we were treated with professionalism , kindness and all of the staff were extremely helpful. From the moment we walked in until the time we left. Very Thankful that we found Blue Ravine Animal.
- Pamela
Feb 4, 2019
Staff is always pleasant and helpful. Like speaking and learning from Dr. Sweet. Have been a client/breeder of Bichon's with Blue Ravine Hospital for many, many years. I always come back because of the trust of years of experience with doctors/staff.
- Erayna
Feb 4, 2019
Staff is excellent and care about the care my pet receives and also that I am comfortable with her care. Best vet care I've ever had so glad I found them.
- Debbie
Feb 3, 2019
Have always felt very confident with any of the vets at Blue Ravine. Have had experience with several with Shadow (blk lab mix) over the past 5 years. Bella is new and I have chosen Dr. Rivera due to Bella's particular needs.
- Mary
Feb 2, 2019
Dr. Wolf is the most caring and understanding veterinarian I have ever met. She is always patient and takes the time to explain every aspect of the visit. She is also incredibly compassionate and caring with the family of very sick and dying dogs.
- Linda
Feb 2, 2019
We came to you because of your reputation for caring for Bulldogs....we were not disappointed. Thank you.
- Douglas
Feb 2, 2019
Very knowledgeable, courteous, and pleasant.
- Vic