Client Testimonials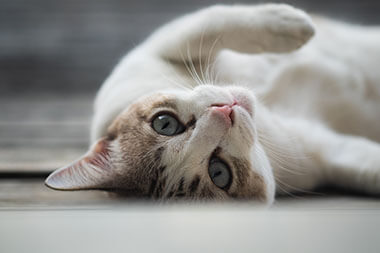 June 30, 2018
For all the questions and reasons asked above. It's clean, well managed and staff is always pleasant to work with. I have confidence in the doctors. Have been a long time client because of this. I have referred several friends as well.
- Erayna B.
June 29, 2018
Incredible staff— my bulldog Tyson has severe allergies and I have always been able to get an appointment quickly. Great hours and every Vet that has treated Tyson has been so knowledgeable and kind— thank-you to everyone!
- Sheila P.
June 28, 2018
Thank you Jax and Dr Wolf! I know my pet got the best treatment bringing him there :-)
- Mary R.
June 28, 2018
The staff at BRAH is amazing. I work with Drs. Rivera and Wolfe. They are always patient with my questions. When I lost my beloved service dog Nylan at 12 1/2, Dr Riveria showed much compassion as did the staff.
- Melody R.
June 25, 2018
Thank you Dr. Rivera! You took care of Zig so well and I am grateful to the time and interest you gave to making Zig feel better! Zig is doing great!❤️
- Ana P.
June 28, 2018
Dr. Sweet. Patty, entire staff spoil the animals. They care about your pets and your feelings. They are considerate, kind and it shows in their actions.
- Unknown
June 25, 2018
I live in the SF Bay Area and take my bulldog to a local vet for simple visits. But when I can, I take him to Blue Ravine; the standard of care is *so* much higher. Modern, immaculate facilities and knowledgeable, thoughtful, and very caring staff!
- Linda P.
June 24, 2018
Staff very friendly they care for the pets and treat you like family.
- Angela P.
June 22, 2018
We were an emergency and you had never seen us before and by the end of the visit I felt like family. Harry was very sick and is still recovering and if I hve a question I feel like I could pick up the phone and ask for that I thank you all.
- Brenda Y.
June 20, 2018
Great staff.
- Cynthia U.
June 18, 2018
Dental technician, Jolene was very thorough in answering our questions about the procedure & in giving instructions for recover care. She showed care & concern for Ginger. Front desk person submitted the claim to insurance, making it easy for us.
- Unknown
June 18, 2018
The staff techs are very considerate and kind to my very frightened Aussie. Dr Rivera is always so thorough and explains everything as she goes along. She gives clear alternatives for treatment. The facilities are exceptionally nice.
- Linda D.
June 18, 2018
Dr Sweet is so caring and so GENTLE with my senior pup! Also Jaxs was a super sweet help in getting my cavalier in for an Echocardiogram. Thank you!!
- Jan B.
June 16, 2018
The service has always been excellent. The care is exceptional.
- Jay R.
June 16, 2018
We brought our Boston Terrier in for a palate reduction surgery. Staff was very clear on estimate of cost and price ultimately paid was very reasonable. Clear aftercare instructions and follow-up call to make sure he is doing well were appreciated!
- Brandy K.
June 15, 2018
I feel Dr Yokoi goes above and beyond in helping us take care of our dog.
- Carole N.
June 15, 2018
Always great and always has been. I've been going there for 15 years and wouldn't consider going elsewhere.
- Robin G.
June 13, 2018
We have trusted Dr. Sweet and company with our animals for 30+ years. I still drive 45 minutes to get there.....
- Grace T.
June 8, 2018
Thanks, Chris was wonderful as usual.
- Kimberly P.
June 7, 2018
Professional, clean, extremely comfortable with Murphy. Great vet visit.
- Unknown
June 6, 2018
As new pet adopters of a puppy, we had a LOT of questions. Kayla was extremely knowledgeable, very helpful and patient with us. The additional times we've been in to drop things off, or pick things up, the staff has been kind and helpful.
- Julie H.
June 5, 2018
Professional and caring staff. When I walk in for an appointment, they may not remember my name, but they remember my dogs' name. That says it all. Mike G. & Panda
- Mike G.
June 4, 2018
I have hope, again, that Bailey can have a long, happy life!
- Susan P.
June 2, 2018
My answers are based on past and current personal experiences with Blue Ravine. Remy is not my first pet treated by the Blue Ravine staff. My pets and my family have always been treated with expert knowledge, kindness and consideration. Thank you.
- Chris M.
June 1, 2018
You guys have always been great to me and my pets over the years, so I will always come to you guys!
- Aaron B.
May 30, 2018
Dr. Rivera & Dr. Wolf are great. Lauren was super helpful and took the time to talk to me about Ruger. The staff is always friendly.
- Dana F.
May 26, 2018
Knowledge and effective in all manors of pet care. Staff always friendly and helpful.
- Cecil B.
May 26, 2018
I have been coming to BRAH for years. The staff and doctors are the best! I know that my precious Muggins is in the best of hands! Thanks to all of you for your care.
- Kathy M.
May 22, 2018
The entire experience was excellent.
- Unknown
May 20, 2018
Vet tech Rashi has been wonderful with working with my Hoku. Hoku has anxiety issues, and she has been helpful in our ongoing effort to making a vet visit less stressful.
- Unknown
May 20, 2018
We have been coming here for 3 years now and I love it! Everyone is always super friendly and knowledgeable.
- Michie S.
May 20, 2018
Great customer service from reception desk. Tech's and all the vets are very courteous and you can tell they truly love their jobs as every dog is greeted and loved.
- Linda T.
May 17, 2018
Kathy was amazing with helping me get answers for my pets over the weekend, through the check-in of my appointment. She was patient, kind, and very knowledgeable. The Doctor and medical assistant were the SAME!
- Erica S.
May 15, 2018
I love Blue Ravine Animal Hospital they are so compassionate and treat my cats with love as if they were theirs. Thank you for all you do.
- Lynne D.
May 14, 2018
Blue Ravine animal hospital has always treated Cooper amazingly and the Doctors have always been very pleasant to see and helpful in answering our questions.
- Shannon H.
May 12, 2018
Prices were reasonable and care was stellar! Kathy referred me and I was very pleased with the service!
- Susan P.
May 12, 2018
All the staff always have a professional and a compassionate manner. I trust Dr. Thomas' judgment. She has guided us through some difficult times with our boys, who are healthy 13 years and 14 years of age. She is a knowledgeable diagnostician.
- Judy C.
May 10, 2018
You folks are awesome and very understanding given my alpha cat is no easy customer.
- Brett B.
May 10, 2018
The staff from the front office, vet techs and Doctors are excellent! Thank you for taking such care of my hairy baby.
- Deanna M.
May 6, 2018
Very helpful in a time of distress -- both the office staff and the medical care. I am thankful that they have weekend hours -- comforting knowing that they can provide support if the pet takes a turn for the worse over the weekend.
- Deborah B.
May 6, 2018
I wouldn't take my dogs anywhere else. When you're there you're treated like family because that's what Blue Ravine is, one large family of professionals committed to provide your beloved pet the absolute best of care.
- John P.
-
May 4, 2018
Alison and Dr. Thomas were great!
- Connie C.
May 3, 2018
The clinic is very clean with very knowledgeable Dr's. She is always groomed beautifully.
- Unknown
May 1, 2018
Dr Rivera was very professional and though on her exam. Super friendly I would go back.
- Imelda R.
May 1, 2018
The staff is knowledgeable and friendly and I have confidence in the doctors. The staff is there for everyday health problems, loving care and especially for end of life care. You're all the best.
- Joann A.