Client Testimonials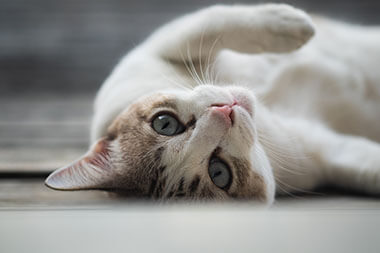 Aug 31, 2018
Me and my dog always receive a warm welcome when we arrive. I feel all of the staff are very helpful. I refer people to BRAH whenever they ask about my bulldog or if they are looking for one since they provide a Bulldog Rescue.
- Cheryl M.
Aug 29, 2018
Dr. Christina Yokoi was very compassionate, sympathetic and helpful. She guided us through an emotionally difficult diagnosis. She always kept our dog's best interest in mind while simultaneously helping us understand and cope with the outcome.
- Greg B
Aug 26, 2018
Peace of mind is a big deal to us when it comes to our pets and Blue Ravine Vet Hospital's knowledge and care has reassured us we are providing Zoie the best care possible in these last few years.
- Christian C.
Aug 25, 2018
Love the care our dogs have received over the years.
- Jeanette M.
Aug 24, 2018
All staff are consistent.
- Unknown
Aug 16, 2018
Dr. Sweet and her tech treated my cats and I with the ultimate respect, care and concern.
- Unknown
Aug 14, 2018
Caring and great vets.
- Unknown
Aug 12, 2018
The staff was very kind and helpful. I especially loved the vet tech that helped with little Izzy Perotti on the day of her palate surgery. I am sorry I didn't get her name bc I was so nervous and upset about Izzy's surgery. She worked w Dr Rivera.
- Lucy P.
Aug 12, 2018
Blue Ravine came very highly recommended from a couple friends so we made an appointment and the staff was so friendly and helpful. We had a GREAT first visit and are so happy to have found a place to bring our dog for any of his needs.
- Kim J.
Aug 12, 2018
Dr Wolf took the time to explain everything thoroughly. Always great care at Blue Ravine.
- Elizabeth C.
Aug 12, 2018
I was there to see a Technician for shots and blood work. I was given the option of seeing Dr. Yokoi. Which, I did and appreciated! And, when I arrived home, Dr.Yokoi called with the blood test results! Excellent care and follow ups. Very satisfied!
- Connie C.
Aug 11, 2018
We have 3 cats, all of whom have visited your facility. Dr. Rivera is AWESOME with us and our cats every time we see her. Our last visit was a semi-emergency but the staff worked us in and our youngest cat is now all better!
- Victoria V.
Aug 10, 2018
So very professional, thorough, and genually caring. Have 100% faith in the advice and care for my pets at Ravine.
- Unknown
Aug 6, 2018
They immediately pulled me into a room due to concern for my puppy and other dogs. I really appreciated that they had a concern for everyone involved. They answered all my questions and spent extra time teaching me what I needed to know about my dog.
- Alicia K.
Aug 6, 2018
From the moment we walked in, to the very moment the doctor greeted our dog Snoopy, the staff and doctor were amazing!! I'm so relieved to have found Blue Ravine Animal Hospital!!!
- Vicky V.
Aug 4, 2018
Excellent staff and friendly.
- Unknown
Aug 4, 2018
Staff is very competent and caring. They get the diagnosis right and the recommended treatment works. Just yesterday I recommended BRAH to a neighbor. Thanks to all.
- Robert G.
Aug 4, 2018
Blue Ravine feels like family.
- Velvet N.
Aug 3, 2018
My husband and I were Client #3, so Blue Ravine has been our go-to for a long time. Communication with clients, whether by the doctors, the techs, or the front desk has always been excellent. The clinic being open on weekends is very helpful.
- Arlene R.
Aug 2, 2018
I always receive the highest care for my bulldog whether I have a vet tech appointment or I see a vet even the receptionist is always nice when I come in there I would never trust another vet with my bulldog. Jax is always great with her.
- Debbie D.
Aug 1, 2018
Same day appointment. After seeing the doctor. It took only one day on medications to see my Bella comfortable.
- Michele W.
Sep 30, 2018
Excellent customer service throughout the entire process! Dental cleaning is expensive but I was very impressed with the quality of care and customer service!
- Tricia R.
Sep 30, 2018
Dr. Sweet is a professional.
- Unknown
Sep 30, 2018
I felt very comfortable asking the Doctor questions and received knowledgeable, thorough answers in a warm and caring manner.
- Candace C.
Sep 29, 2018
Although I'm a new client (this was my second visit with Dr Sweet) I'm pleased with the reception and care received. It's important that my chosen vet be available without having to schedule weeks in advance which we can't always do.
- Unknown
Sep 28, 2018
All staff is very friendly.
- Laurie Z.
Sep 27, 2018
A very clean and professional clinic with excellent customer service. I recommend it.
- Patricia C.
Sep 26, 2018
We've experienced nothing but knowledgeable and caring service since changing vets a few years back. Now with a new puppy, we look forward to continuing with that same level of service. Thank you!
- Sue T.
Sep 25, 2018
Very responsive to our time issue to start and every staff member we met was outstanding....friendly, knowledgeable, and concerned and considerate about the patient.
- David W.
Sep 23, 2018
Always friendly and professional.
- Joanne M.
Sep 22, 2018
Love love love this place! I trust my for babies lives to all the staff here. Michelle and Ann are always sweet and helpful ❤️❤️❤️
- Angel B.
Sep 16, 2018
Dr Rivera zeroed in on the problems affecting my dog, listened to my concerns, and offered reasonable and manageable methods for treatment.
- Susan P.
Sep 16, 2018
The receptionists make my dog and I feel welcome. They are the first ones we are greeted by. They smile and have are very friendly. That is important as my dog is old and has to have a lot of veterinary care. The vets are awesome, loving and caring.
- Unknown
Sep 15, 2018
Dr. Wolf is amazing and she takes such good care of our dogs. We always leave our appointments with all the info we need and a solid plan for their care. We often bring in all three dogs at once and she spends all the time needed on each one.
- Unknown
Sep 14, 2018
Jax always treats my dog and us like we are family. No matter how busy her schedule is or her day has been, she makes my dog feel loved and cared for...which makes us feel cared for! Thank you Jax.
- Unknown
Sep 14, 2018
Every vet there is Bulldog savvy which is really hard to find in the Sacramento area. Always great with my animals....Even my Bella who can be a handful at times.
- Teresa R.
Sep 10, 2018
Very professional, prompt, and courteous.
- Unknown
Sep 10, 2018
Knowledge, compassion, and follow up - five star service.
- Maribeth S.