Client Testimonials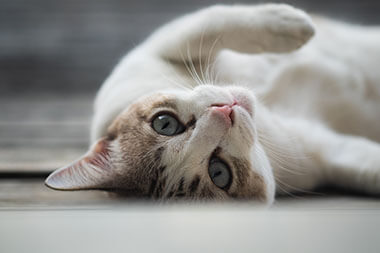 Nov 30, 2018
I Live in Oakland CA. I have English Bulldogs. Blue Ravine and Dr. Sweet have always provided the best possible specialized care for my dogs over the years.
- Bob M.
Nov 29, 2018
My veterinarian was kind and professional as well as the vet tech. I was amazed by the level of care they gave my little guy.
- Shianne B.
Nov 29, 2018
Staff was friendly, the facility was nice and clean. The doctor went above and beyond to make sure my nervous Great Dane felt comfortable. She also spent a lot of time discussing the potential pregnancy of my Frenchie.
- Ginette A.
Nov 24, 2018
What a wonderful warm and caring environment.
- Amy H.
Nov 24, 2018
Love Dr Sweet! So wonderful to have a Vet that treats small animals! Everyone is so friendly and helpful and we appreciate all the staff!
- Unknown
Nov 23, 2018
Staff is very professional and knowledgeable when it comes to taking care of my 2 Frenchies.
- Debi G.
Nov 22, 2018
The staff at Blue Ravine Animal Hospital are very friendly, professional, and strive to make sure you are fully informed. By far the best animal hospital that we've taken our dogs to.
- Debi G.
Nov 21, 2018
Apolo is a diffcult dog to treat but he still receives great care from the doctors and staff.
- Francie B.
Nov 18, 2018
Nice facility in hometown with several doctors and techs available when appt.is needed/necessary. Have recommended to several people.
- Judith L.
Nov 17, 2018
Professional, courteous, compassionate treatment of animals and owners.
- Arlene R.
Nov 15, 2018
True caring for pets - many solutions to problems.
- Rochelle D.
Nov 14, 2018
We have been bringing our animals to this vet hospital for many years. They are always good with our pets and good with us.
- Michael S.
Nov 14, 2018
We have always had such great treatment from all of the staff over the past few years. They've always helped deal with any health concerns quickly and effectively. We believe the care is sincere and top notch.
- Shane S.
Nov 12, 2018
We are new to the area and researched a lot of vet practices. Our time and effort paid off as Blue Ravine has met and exceeded what our expectations are for the care of our furry family member!
- Unknown
Nov 10, 2018
Misty is the best groomer! She does a great job and is the nicest to my dog.
- Sharon S.
Nov 10, 2018
Lexi loves all of you!
- Robert G.
Nov 10, 2018
You care for our pets and for us, as owners/parents. You are compassionate and take all the time needed to care for our pets and ensure we understand everything we need to so that we can assist in treatment decisions and feel completely informed.
- Phil C.
Nov 6, 2018
They take their time and make sure the pet is relaxed and not stressed.
- Nicole K.
Nov 5, 2018
I've been going to BRAH for years. Have always received great service for my pets!
- Aaron B.
Nov 5, 2018
A spacious clean lobby, friendly receptionists, efficient staff and outstanding doctors... I feel comfortable taking my dog here, unfortunately my dog doesn't.... but then again she doesn't know how well she's being taken care of here!
- George B.
Nov 3, 2018
Love you guys!
- Lindsey B.
Nov 1, 2018
You get what you pay for in life.... I feel that the veterinary care we receive for our dogs has always been excellent and professional. Everyone there loves animals and gives them the utmost respect and gentleness that they deserve .
- Jill S.
Oct 31, 2018
Very clean, beautiful environment, friendly and helpful staff, assistant ready with materials without being asked, Veterinarian very knowledgeable and provided various options with recommendations. I'm very pleased with our first visit. Thank you!!
- Vicki B.
Oct 24, 2018
Dr. Thomas is amazing. I believe that she truly cares for my pets. Her assistant was wonderful.
- Laura
Oct 23, 2018
You get 5 stars plus from us. I recommend you all the time, especially to anyone with an English Bulldog. Patty and Michelle you two are the greatest. I don't fill out surveys, but for Blue Ravine I will make an exception.
- Carla & Ron S.
Oct 21, 2018
Responsible and attentive staff.
- Cheryl M.
Oct 22, 2018
I called last minute for a "sick" pet appointment as a new client. The staff got me a same day appointment & were great! We are very appreciative!
- Trisha U.
Oct 21, 2018
Very grateful to have access to a bulldog specialist! Thank you Dr. Wolf!
- Kimberly R.
Oct 18, 2018
Staff seem to work well together to complete a good visit.
- Isabelle K.
Oct 18, 2018
I love Blue Ravine Animal Hospital. My two dogs like to go there. Thank you.
- Unknown
Oct 15, 2018
Love your entire staff, especially Dr Wolf who is the best vet I have found in the Sacramento area. So, so knowledgeable that she provides me with an answer as to why my baby is ill in a very short time. Is always, always so polite and bubbly.
- Unknown
Oct 8, 2018
You are very thorough during exams and take the time to listen to any concerns I may have.
- Sandra M.
Oct 7, 2018
Have ALWAYS received excellent service and care for 15 years!
- Julie B.
Oct 6, 2018
I'm an animal lover, possibly to a fault. The staff, from the front desk to the techs to the vets are professional, knowledgeable, and just a pleasure to engage in questions and conversation. My schnoodles, Ralphie and Topper agree.
- Marcia P.
Oct 5, 2018
Dr. Wolf is amazing. She's so knowledgeable and always takes her time doing a thorough exam.
- Jennifer C.
Oct 4, 2018
Our dogs have been treated at Blue Ravine Animal Hospital for nearly 20 years. I am happy with all aspects of our experience with the Dr.'s and support staff. Feels like home!
- Amy H.
Oct 2, 2018
Long time patient - Dr. Sweet is amazing and everyone of our malamutes has loved her.
- Linda R.
Oct 1, 2018
Weekend hours!!!!!!
- Unknown