Client Testimonials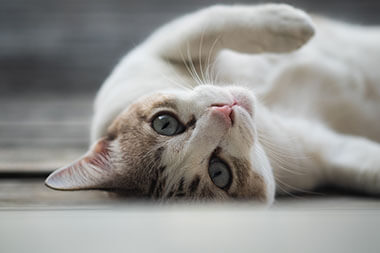 May 30, 2017
We were very pleased with the entire experience at Blue Ravine. Thank you!
- Unknown
May 29, 2017
The staff is always friendly and efficient. Its like visiting friends rather than a fur baby doctor.
May 26, 2017
Passionate team and they work smart!
- Maryann Balesteri
May 24, 2017
Tania, at the front desk, provided excellent customer service. She demonstrated a clear concern for my pet's health and well being. She was awesome, both over the phone and in person!
- Unknown
May 24, 2017
My pups LOVE Kayla! I have two Shiba Inus, Kona is the friendliest Shiba on the planet, but Kira is true to her Shiba nature: skittish, weary of strangers, and dramatic. Kayla is calm and patient and my girl is happy. Thank you Kayla!
May 23, 2017
The level of care our pets receive is up and beyond the normal!! There aren't enough words to describe how thoughtful and understanding the staff are. The Vet's are so knowledgeable and make us feel so secure when treating our pets.
- Mary Anderson
May 22, 2017
We saw Dr. Rivera, she was very knowledgeable and friendly
- Kim Connelly
May 22, 2017
The doctor that took care of Buddy stayed late along with the staff to help buddy. Such a comfort for us. Can't thank you enough.
- Mary Ann Romero
May 20, 2017
My family has been coming to Blue Ravine Animal Hospital since the day they opened. The entire team has gone above and beyond in helping keep my dogs healthy and happy. From puppies to end of life, they were professional and caring with each visit.
- Billie Sharp
May 16, 2017
We appreciate the team at Blue Ravine Animal Hospital very much.
- Unknown
May 14, 2017
5 stars.......Compared to last Vet, you are a ten star. Felt like "Luke" was very important to the whole staff and since he means the world to me, that is what really counts.
- Judy Carter
May 14, 2017
Dr. Thomas was kind and understanding to both my dog and me!
- Jill Jones
May 13, 2017
Blue Ravine Animal Hospital is the best place to take your pets to. All the vets are extremely nice and knowledgeable. They listen to all of my concerns and I love it there. I highly recommend them.
- Cheryl Jimenez
May 12, 2017
Take my dog for grooming. And he is always looking fantastic and happy when we pick him up!
- Julianne Miller
May 12, 2017
Blue Ravine is an exceptional establishment...I always feel my fur baby Greta is s really cared.for..pampered ..and catered to each and every visit. Her healthcare is affordable,which in turn keeps her healthy and happy.
- Lisa Sanderson
May 11, 2017
Dr Rivera was great! She was personable and thorough. She found a lump on Lobo we were unaware of & we are extremely thankful to her!!
- Laura Murphy
May 10, 2017
I am new customer. Outstanding service, courteous, integrity, knowledgeable, compassionate, & thorough. Entire staff is exemplary, from receptionists to Vet Tech, to vet herself. VT Lauren & Dr. Katie Wolf are AMAZING! I am so impressed & pleased!
- M J Maher
May 9, 2017
Dr Wolf is extremely kind caring an thorough in examining George my bulldog. Also each assistant is very pleasant n professional. The best. The other DR. Who sees Gizmo is also great. The best.
- John Coyne
May 8, 2017
No Dr visit thus time, just brought fecal samples in for annual check. We're always greeted by the desk staff, with smiles and good cheer. When I do bring my girls (border terriers) in, they are treated with kindness & patience! Love the staff & drs!
- Leslie Reed
May 6, 2017
Patti and the entire team at Blue Ravine have always made us feel special, and treated our pets with the best care. As if they were their own pet. Wouldn't go anywhere else.
- Unknown
May 6, 2017
We have been assisted by Vet. Asst. Chris couple of times now. We have found him to be very pleasant, engaging, informative, & thorough. Dr.Sweet has a commonsensical approach to diagnosing & treating.She educates pet parents along the way. We 💛 her!
- Sandy Dharmadas
May 1, 2017
Jax was outstanding... very caring, very knowledgeable, very personable and very professional Dr. Yokoi was awesome! thanks for a great experience
- Amy Dawson
May 1, 2017
Staff & docs always take the time and concern to take care of my kitty, even in emergencies.
- Unknown
May 1, 2017
The staff is consistently friendly and is always interested in my dog and how she's doing.
- Unknown
May 1, 2017
Vet was great took a lot of time with me and my cat well check up
- Leslie Witten
Apr 29, 2017
Office hours!! Easy parking! Clean spacious facility! Knowledgeable staff and the Cardiologist we saw was fantastic!
- Jan Brown
Apr 27, 2017
My recent visit was for nail clipping only. I didn't see the vet or need any advice at this time. However, I have recommended Blue Ravine to Family/Friends. All the vets are Fantastic. However, I always ask for Dr. Thomas.
- Christina Navarrete
Apr 24, 2017
I have always felt that my pets have been treated like a family member which is how we view them.
- Fawn Gyetvai
Apr 22, 2017
The groomer Misty knows and loves my dogs, her relationship with them keeps them calm and comfortable when I know they don't like to go in for grooming, it is comforting.
- Debbie Doerges
Apr 21, 2017
Thank you so much Dr. Wolf for your recommendation & removal of Sammy's cherry eye! He is doing great! Vision improved greatly. Sammy now...can climb up the stairs again & close his eyes while sleeping! :)
Apr 18, 2017
We love Dr. Wolf. She is honest and compassionate while guiding you thru difficult decisions for your fur family member.
- Deby Wallace
Apr 17, 2017
Dr. Thomas is an exemplary DVM and a warm and friendly person, too! We're lucky to have her help and support!
- Denis Mullenax
Apr 17, 2017
The staff is extremely kind and willing to assist and answer questions when asked. Very helpful!!
- Trish Crichton
Apr 15, 2017
Wonderful, caring service as always.
- Daniel Kaye
Apr 14, 2017
Professionalism; thoroughness; communication skills.
- Don Condon
Apr 14, 2017
Missed my appointment time but they fit me in to be seen anyway. Everything is always explained thoroughly, and my questions are cheerfully answered. Treatment options, tests and medications are offered and explained, but never pushed.
- Unknown
Apr 10, 2017
Dr. Wolf was articulate when explaining our Oscar's health problem and steps to be taken even though we were somewhat distraught. When nervous we tend to talk a lot but Dr. Wolf handled it well and continued to explain what we needed to know. Thanks!
- Kelly Spicci
Apr 10, 2017
We were here for grooming so there was no need to see veterinarian, but the staff was great! They are always very friendly and loving towards our dog. We live in Carmichael but come to Blue Ravine even though it takes 25 minutes to get there.
- Debra Hansen
Apr 10, 2017
Everyone from the front desk staff to the vet techs are always very polite and considerate, plus very friendly. Dr. Jackie usually gets a complimentary piddle from Abby too ;-)
- Terry Ottlinger
Apr 10, 2017
Your team always treats us and our dogs with dignity and respect. We bring all 6 in at once, and your staff always accommodates us without a blink of an eye! Thank you!
- Velvet Nelson
Apr 9, 2017
Chris, a new tech to my girls who are not used to men, was very considerate of that fact. Which I appreciated so much!
- Lois Kieffer
Apr 9, 2017
Absolutely the best! Leo agrees too.
- Rose Parkes
Apr 8, 2017
The breadth of knowledge by the combined staff is refreshing. Even when busy, they are very professional and pleasant. I highly recommend Blue Ravine Animal Hospital.
- Scott McGowen
Apr 8, 2017
Service and care for my furry kids is exceptional!
- Brenda Connolly
Apr 5, 2017
The staff was helpful, considerate, knowledgeable, and acted in a caring way towards the animals. Jilly Bean was relaxed which indicates to me that she felt safe and secure. Thanks for a pleasant visit to the vets.
- Joanne Whittaker
Apr 5, 2017
Staff were very efficient and informative.
- Cindy Spear
Apr 4, 2017
So friendly and welcoming. Beautiful facility and feel confident in pets care.
- Jeanette McKinnon
Apr 4, 2017
Very good customer service! They take wonderful care of our dogs!
- Unknown
Apr 3, 2017
We love BRAH they take great care of our three dogs
- Gina Taylor
Apr 1, 2017
I love everything about Blue Ravine Animal Hospital from the staff to the doctors. Everyone is extremely friendly and helpful. The hospital is always clean and odor free. I will always take my pets there now and in the future.
- Douglas La Vallee