Client Testimonials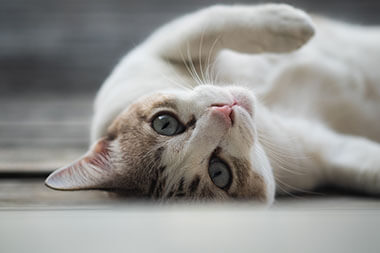 Jul 25, 2017
The assistant who took my information was very friendly and knowledgeable. Dr Sweet saw my pets and was very clear in explaining the problem with Simba and how to treat it. She always takes her time and never hurries you. I appreciate that a lot.
- Beni Feil
Jul 23, 2017
Staff has always been outstanding and given top notch service. I trust no one else with my pet.
- Tina Canupp
Jul 23, 2017
Quality of care and genuine concern for my elderly Jack Russell and his ongoing skin infections.
- Unknown
Jul 22, 2017
Our dog has been taken better care of than any vet we've ever been to.
- Renee Tyler
Jul 22, 2017
Great staff
- Robert Ketchum
Jul 19, 2017
Ariel, so very pleasant, cheerful and helpful. Dr. Yokoi is so pleasant and so thorough with her examine and so informative. I recommend this pet hospital to all my family & friends and anyone within the immediate vicinity. Beautiful facility.
- Sally
Jul 14, 2017
Staff is extremely informative, educated and compassionate. Veterinarians are wonderful and explain all procedures options and costs.
- Debra Cryder
Jul 11, 2017
Were able to receive an appointment when I needed, and given multiple options for treatment. You always will be my going to veterinary office for care!
- Shannon Jones
Jul 5, 2017
My pets are always at ease at Blue ravine Animal Hospital because the staff is so friendly and efficient.
- Unknown
Jul 4, 2017
Friendly and caring.
- Lisa Inselman
Jul 2, 2017
I have been coming to your hospital for many years. I love the staff and care provided. I have recommended several of my buyers/clients to you. Great care and professional warmth. Wouldn't sell a litter without Dr. Sweet's exam.
- Erayna Beckman
Jul 29, 2017
Great office! Really liked Dr Sweet.
- Unknown
Jul 29, 2017
The staff make you feel Like family, especially Michele, Patti and Trisha!!
- Rosalie Blyk
Jul 27, 2017
| | |
| --- | --- |
| Great hospital with a very courteous and knowledgeable staff. | |
- Tom Gadd