Client Testimonials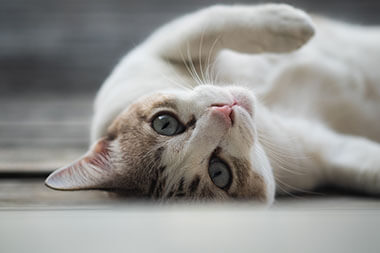 Sep 29, 2017
I was impressed with the latest facility, the friendly staff, the clear competence of Dr. Sweet, and all of the valuable information shared. Vet Tech April was kind enough to help photograph my new puppy's first vet visit!
- Debby Armstrong
Sep 29, 2017
Always get the best professional, courteous, and knowledgeable service.
- Candace Jeffcoat
Sep 27, 2017
Amazing care, great hours, and a specific knowledge of brachycephalic dog breeds and their breed specific needs.
- Jeremy Watson
Sep 26, 2017
Jax is the best and our dog loves her.
- Nancy Conley
Sep 23, 2017
We love coming to Blue Ravine Animal Hospital. Dr. Sweet is so kind and caring and so is Dr. Thomas. They take time to know everything that could be problematic to my pet. Everyone there is so kind and helpful I would highly recommend this surgery.
- Victoria Gosden
Sep 21, 2017
Dr. Sweet is very patient and detail oriented. She took the time to go over all my new puppy questions and I never felt rushed.
- Natalie Biehl
Sep 19, 2017
I never regret my 1 hour drive to visit with Dr. Wolf and the other professionals at Blue Ravine. Not only does my English Bulldog receive thorough & gentle care, but I learn something new about Bulldogs at every visit!
- Kim Rodegerdts
Sep 19, 2017
Nice, thorough and good to our dog 🐶
- Unknown
Sep 14, 2017
The visit was on time, the examination was complete - the doctor gave full explanations on each part of the exam. I was very pleased!
- Jeannine Newcum
Sep 14, 2017
I am deaf and advised the staff that I would prefer to receive a text message from the vet rather than a telephone call. The vet texted me several times to advise me of my cat's health problem, and again as follow-up on Sunday evening on their own time.
- Mary Henriksen
Sep 11, 2017
I also appreciate Patti who was very hospitable, friendly, and helpful.
- Jan Volker
Sep 11, 2017
Both Dr. Rivera and Kayla were very helpful, honest, and explained things in detail to my husband and I. They were very caring with Jake.
- Heidi Weidner
Sep 11, 2017
I appreciate that the staff is always so helpful doing things like carrying food out to my car for me.
- Deborah V. B.
Sep 10, 2017
Absolutely in love with every staff member I had the pleasure of meeting/talking to. It is very apparent that everyone cares not only for our little babies but for the owners as well. Tricia (I believe), Bri, Dr. Rivera, and the surgery tech A +++!
- Julie W.
Sep 8, 2017
Every staff member was extremely kind and full of information. I'm so happy I choose this Animal Hospital for Bailey's care.
- Kris L.
Sep 6, 2017
Very friend staff and I never feel pressured or shamed into services for my animals that they do not need.
- Kristina R.
Sep 5, 2017
We really liked the way staff handled our kitten. Everyone was very gentle and kind and I truly felt they cared for his well-being.
- Unknown
Sep 4, 2017
First and utmost, you got my beleoved Lucas in quickly so that he received the prompt medical aid he needed. Your staff is friendly and professional, your facility is gorgeous and clean, and there is ample easy parking. Thank you so very much!
- Cathy A.
Sep 3, 2017
Dr. Thomas is always cheery and professional. She takes the time to answer all of my questions and you can tell she genuinely cares about taking care of my pet. I appreciate her very much.
- Brienna K.
Sep 3, 2017
Super polite, compassionate, and competent staff.
- Lynda C.
Sep 3, 2017
Dr. Wolf is wonderful and I feel truly cares for dogs.
- Unknown
Sep 3, 2017
You've always been so kind to my pets and me. I always recommended you to others.
- Georgia J.
Sep 1, 2017
Jax is who my 2 pups see pretty regularly and she is great with them. They get so excited to see her every time. She explains everything to me after every appointment and takes great care of both of my dogs. Every vet or vet tech we see is professional.
- Sandie D.
Aug 31, 2017
Staff is always pleasant, courteous, and helpful. I find it very convenient the Hospital is open for patients 6 days a week, and open on Sundays for meds. The interior is always immaculate and exudes pride of ownership.
- Diane Takao
Aug 26, 2017
Best groomer in Folsom
- Unknown
Aug 25, 2017
The staff and Dr Wolf were very caring when Lucca came in with his leg cut❤️❤️
- Dave Lucchesi
Aug 24, 2017
Veterinarian staff are well knowledged and have a good understanding of the Bulldog breed.
- Kimberly Vela
Aug 19, 2017
Dr Sweet is so caring towards myself and my animals! We have been with BRAH since they opened and only see her! She takes time & gives emotional support as well! She is VERY knowledgeable and explains everything with patience and empathy! Thank you❣️
- Melissa Durham
Aug 17, 2017
Dottie loves going to Blue Ravine even when she is a little under the weather!
- Laura Machado
Aug 16, 2017
Dr. Rivera is awesome and she has a lot of experience with Bull dogs.
- Ruth Guerra
Aug 14, 2017
I have a large and somewhat aggressive dog, not stranger friendly. I am always pleased and amazed that the techs and vets handle her with relative ease. It always makes me come away smiling. The staff is amazing and they are so helpful!
- Linda Anderson
Aug 13, 2017
Always polite, considerate and professional.
- Don Condon
Aug 11, 2017
Wonderful as always!
- Erin Stratton
Aug 10, 2017
The staff and care is excellent!
- Connie Crum
Aug 10, 2017
I was very pleased with the services. Dr. Wolf and Rash were extremely friendly and knowledgeable. They not only addressed all our needs concerning, they also were kind and loving towards our two hyper pups! And the online services are amazing.
- Chelsie Nakasone
Aug 6, 2017
Great caring employees
- Unknown
Aug 3, 2017
Always awesome! Came in because my dog had eaten something he shouldn't have. I was given several options for treatment and unfortunately ended up having to get surgery. The staff was amazing and put my mind at ease. Love Blue Ravine Animal Hospital!
- Rachel Gonsalves