Client Testimonials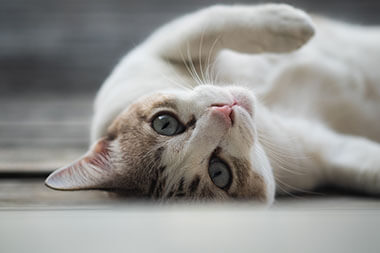 Feb 27, 2018
Dr. Thomas was fantastic at explaining everything I needed to know about Chloe my English Bulldog. She spent extra time with her and made sure she was treated gently. Thank you Dr. Thomas. the vet tech ( April ) was really great too. Thank You April
- Douglas L.
Feb 27, 2018
Your team is exceptional, knowledgeable and friendly. It is always a pleasure to work with you. I have come to BRAH for many years and have had both my personal dogs and many fosters treated there & always received exceptional service and care.
- Khristine T.
Feb 26, 2018
Dr Finochio and her tech listened to my concerns. I was given several options for treatment with each fully explained to me. Staff made me feel that I was involved in ZIVA's treatment plan.
- Joanne B.
Feb 26, 2018
I loved how the doctor sent me the outline of our visit right after we left. Was very helpful. Everyone was very friendly.
- Tara D.
Feb 25, 2018
We love Dr. Wolf! She is always so informative and truly cares about my pets health like they were her own. Everyone at Blue Ravine is so friendly and caring. I would never trust anyone else with my furbabies. They are the best!
- Stephanie C.
Feb 24, 2018
Friendly, caring staff. My dog recently had a procedure and I got two phones calls from the veterinarian to give me updates along the way. I feel that my dog is very well cared for there. ❤️🐾
- Jennifer B.
Feb 24, 2018
All technicians and physicians always treat my animals gently and with a caring attitude. I really love this veterinary clinic and I have been to clinics in Illinois and Virginia. No question Blue Ravine excels above the rest.
- Sandra S.
Feb 22, 2018
I would like to give a shout out to Vet Tech Lauren. She is always so kind and courteous and is always so loving to my little babies! Blue Ravine is lucky to have an employee like her on their team!!
- Unknown
Feb 19, 2018
You ladies were all very professional, it was clean, and my dog and I were treated well.
- Tim B.
Feb 17, 2018
Staff is very friendly and the office is clean and comfortable.
- Cynthia M.
Feb 14, 2018
I have been going to Blue Ravine Animal hospital for many years and have always felt confident in the vets there especially Dr Sweet although I have never had any complaint with all the doctors there they are all kind, knowledgeable and competent!
- Victoria G.
Feb 14, 2018
Dr. Yokoi & the caring staff at Blue Ravine saved Ruby's life. Without Dr. Yokoi's encouragement to do an ultrasound based on Ruby's symptoms, there may have been a much different outcome. Alison was also very helpful & kind. Thank you so much!
- Kate C.
Feb 12, 2018
I called on Friday morning and they did a drop off appointment. Got a call about a hour later that she was sick. While she was at the vet over the weekend EVERYONE involved was kind, helpful and gave her great care.
- Merrilee G.
Feb 12, 2018
My concerns were listened to and addressed. The doctor went out of her way to get as many answers for me as she could. She even waited until the blood results were done that day to call and tell me the results.
- Unknown
Feb 10, 2018
Staff is sympathetic, compassionate, knowledgeable, professional, and courteous. We LOVE Dr. Kathrine Wolf! And we know Blue Ravine Animal Hospital will always provide the best care possible to our dogs.
- MJ M.
Feb 9, 2018
The staff was helpful and nice. Dr was amazing.
- Pat A.
Feb 9, 2018
Awesome experience, now and before we moved here (when we were in transition) when Cappy was in distress. It was amazing that you knew just what to do to make him comfortable thank you!
- Margaret T.
Feb 8, 2018
It was an excellent visit. The staff was very courteous, and patient with my dog. She was being difficult with not wanting her feet to be looked at, and the staff was very professional with her. They were very friendly, and helpful as well.
- Ashton K.
Feb 4, 2018
Great appointment times, friendly staff. Plenty of space to spread out in the waiting area. Our cat is very comfortable having checkups here. Can't wait to bring the new dog!
- Kristin M.
Feb 2, 2018
It's clear that they treat our pets just like their own.
- Unknown
Jan 11, 2018
Very clean, spacious, open office. The staff & the vet were very caring. It's a feel good place.
- Sasi B.
Jan 9, 2018
Blue Ravine's staff of doctors, technicians, and administration are professional without the pretension I've experienced with others. My concerns are always addressed with respect to me as the owner, and my questions always answered thoroughly.
- Carla Maclay
Jan 8, 2018
Love BRAH...cool looking building, vets are always nice.
- Unknown
Jan 8, 2018
Always feel they have my Pets Best Interest as their main concern.
- Monte A.
Jan 7, 2018
You provide effective care in which I trust your vet tech provided excellent post op information.
- Don C.
Jan 5, 2018
Your staff care about all of us: humans and pets.
- Susan L.
Jan 5, 2018
Blue Ravine has always treated myself and my pets with kindness and understanding. The hospital, exam rooms and restrooms are always clean. The staff is always professional and go out of their way for me.
- Kimberly B.
Jan 4, 2018
The veterinarians and staff are competent, kind, and answer questions. I have received the best care at this pet hospital and travel far to continue my relationship with them because of the trust developed over the years.
- Debra R.
Jan 3, 2018
very good and prompt service
- Joan M.
Jan 1, 2018
My pet & I have ALWAYS received the best care & consideration for nearly 14 years!
- Julie B.
Jan 31, 2018
We needed a second opinion for our dog and Dr. Wolf was wonderful. She listened to our concerns and was knowledgeable and caring. I highly recommend to use her as your Vet.
- Maria T.
Jan 28, 2018
For all of the above reasons!
- Unknown
Jan 27, 2018
Everyone her was kind and knowlegable. We were very pleased.
- Unknown
Jan 25, 2018
Dr. Wolf was kind and very knowledgeable, did not push treatment on us, and the fees were VERY reasonable. We came for a second opinion due to a very unreasonable price for services we wanted for Nala. The quote we received was HALF.
- Kathy W.
Jan 23, 2018
The vet was knowledgeable about my dogs issues and was caring toward her as well as the environment seemed to keep my dog a lot calmer than our previous veterinarian's office! Keeping her calm and not over excited was a huge plus for me!
- Stephanie R.
Jan 23, 2018
With everything that Blue Ravine has done for us, and continues to do, we could not be more grateful! They saved Svena's life, & continue to ensure she is on the pathway to health. Dr. Thomas, Katie, ALL vet techs and front desk attendants top notch!
- Missy M.
Jan 22, 2018
I've been coming since you guys were at the first location love the vets the techs and front staff! And so do my pets! I always recommend B.R. to my family and friends!
- Andrea D.
Jan 22, 2018
Your service for my pet has always been above others. Staff personel are friendly and love our pets as much as I. Simply a 5 star service to our commuity.
- Cecil B.
Jan 21, 2018
I love this vet clinic and Dr Sweet. She is so thourough and I can always look forward to a detailed report of my cats blood work and any test results that have been performed.
- Heather D.
Jan 21, 2018
Great people and pet care.
- Robert K.
Jan 16, 2018
Your office hustles. Very professional. I look forward to the services you provide. Although my cats may not.
- Julie
Jan 15, 2018
All staff always ready to help with care.
- Unknown
Jan 12, 2018
I am so happy that BRAH can monitor Peat's eye health. Dr. Sweet is very patient while I ramble on : ) Oil based CS drops work really well.
- Cindy L.