Client Testimonials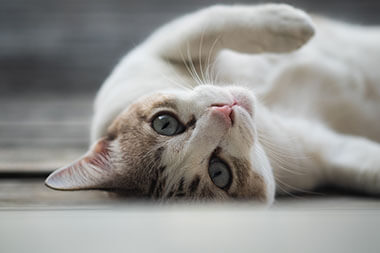 Apr 30, 2018
Pleasant environment with attentive staff. Dr.Thomas & April B (vet tech) were gentle & caring with Sadie. Very patient answering all of our questions & concerns & explaining recommended treatment.
- Chris C.
Apr 30, 2018
The staff truly care about the animals that they serve
- Sandra N.
Apr 26, 2018
Took Huckleberry for a grooming visit with Misty. We just moved here, so nice to find a clean, friendly veterinary office (although we did use vet services). The drop off and pickup went smoothly. He was happy when we picked him up...awesome!
- Elizabeth Y.
Apr 25, 2018
Took in a stray cat (Gabby) for Sacramento Area Animal Coalition spay program. Even though my expenses were minimal, staff was very compassionate toward the kitten and very helpful when giving me instruction on proper post surgery recovery.
- Unknown
Apr 21, 2018
They take extremely good care of my dogs and are thorough in their explanations and recommendations. Highly recommend Blue Ravine Animal Hospital!
- Sandie D.
Apr 20, 2018
A staff of true professionals who provide excellent animal care...
- Unknown
Apr 20, 2018
Dr. Sweet is wonderful. Checkers is not always friendly. She took time to earn his trust. She is thorough. Checkers received the correct meds for his diagnosis. Dr. Sweet called that evening to check up on him. We love Dr. Sweet.
- Barbara D.
Apr 17, 2018
Excellent and professional service always. I have been a customer for nearly 11 years and the staff and doctors are great every time.
- Garrett S.
Apr 14, 2018
I have been coming to Blue Ravine Animal Hospital for approximately 14 years and have consistently received outstanding veterinarian care. I highly recommend Dr. Thomas, Dr. Sweet, and Dr. Yokoi. Patti and office staff are knowledgeable & helpful.
- Julie S.
Apr 12, 2018
It was a great experience. Recommended from Facebook. I totally trust Dr. Wolf and her staff.
- Michelle W.
Apr 10, 2018
It's really hard not to like everything about Blue Ravine, as I have been taking all my animals there for 18 years.
- Paul M.
Apr 10, 2018
Excellent care of my pet dog. Been able to diagnose and treat my dog back to health. The dog never knew it was sick so happy the whole time. Treated the dog with care and love. Thank you!!!
- Deborah D.
Apr 9, 2018
Dr. Rivera is awesome!
- Patti M.
Apr 8, 2018
Dr. Wolf provided great care and took the time to explain all of our options to us. We never felt hurried and our dog Bella is doing much better now due to the care and medication she received.
- Elizabeth C.
Apr 8, 2018
I love my vet Dr. Wolf. She and her staff go above and beyond to be both knowledgeable and courteous. Everyone always make me feel at ease, and answers any questions I might have. I feel grateful to have you as my vet hospital.
- Stacey S.
Apr 7, 2018
Vet tech April was amazing and spent a lot of time going over the latest information on nutrition, immunizations, and vet care available and recommended for our new puppy. Dr. Finochio was so gentle and caring, and made our puppy love her exam!!!
- Carla M.
Apr 6, 2018
Great experience. Entire staff was extremely friendly and informative. Chris was our tech and was wonderful, as was the receptionist who checked us in and out!
- Unknown
Apr 6, 2018
Roxy and Cali were groomed for the first time and they looked amazing! Cali is a doodle and she looked like a doodle not a poodle! Will be back in 8 weeks!
- Jennifer Cox
Apr 3, 2018
Fantastic service and quality vets!
- Lisa M.
Apr 1, 2018
I made the drive up from Livermore which is close to 100 miles away. The staff treated me with urgency and the doctor was amazing. Overall it was a wonderful experience and I would definitely refer this pet hospital to others!
- Tony V.
March 31, 2018
Nice office, good coffee, candy for my child. Whoever was the vet I saw was wonderful!
- Megan M.
March 31, 2018
Our most recent visit to BRAH was one of the best! Dr. Thomas and vet staff are very compassionate. Natascha at the front desk was beyond sweet and comforting as I brought in my ill elderly Boston Terrier. I highly recommend Blue Ravine Animal!!
- Heather M.
March 29, 2018
Cristina was very caring to both me and my cat. I was nervous bringing her in for her full senior work up, but I am so glad I did. There was also a technician who took my cats blood and I couldn't believe how amazing she was! So fast and accurate!
- Unknown
March 29, 2018
Caring, compassionate and knowledgeable. Great Vets and their assistants especially Lauren. 🙂
- Carrie H.
March 29, 2018
Maggie went in for grooming and as usual Misty was wonderful with her.
- Dawn V.
March 28, 2018
Ann as always at the front was wonderful. We came in and she let us know right away there had been some emergencies and the wait might be long so she rescheduled us for the next day. Appreciated that so much.
- Dianne P.
March 27, 2018
I feel confident that my cats are well cared for.
- Unknown
March 19, 2018
Blue Ravine is new to me, recommended by Amanda Schaffner from Nor- Cal Golden Retriever Rescue. The staff is so helpful, warm and caring and I love the Doctors and Misty is an amazing groomer. I will continue to bring my Bella here!
- Katrina V.
March 17, 2018
Dr. Wolf and Lauren are amazing! They take excellent care of my dog and adapt to his behavioral needs, which makes our vet visits comfortable and stress free.
- Juliet R.
March 16, 2018
From the moment we walked in, we knew we were where our pets would receive the very best care. Your staff were VERY busy but never left us feeling forgotten or unimportant. We never felt rushed and got every question we had answered. Thank you!
- Jamie C.
March 15, 2018
Friendly and knowledgeable staff works hard to accommodate our furry family members.
- Unknown
March 14, 2018
The staff there is awesome my pet is always well cared for.
- Ann H.
March 13, 2018
Misty is the only groomer I trust my Bunny with and my sweet Koda. My rescues are so great with her and they are a lot if work with their snow dog coats. It has been over 7 years and I look forward to many more!
- Debbie D.
March 12, 2018
The doctor took time to answer all my questions.
- Mitchell B.
March 12, 2018
Very caring Doctors! Especially Dr Rivera and Dr Sweet.
- Jan B.
March 12, 2018
The staff was kind and non-judgemental about our current financial situation, and our need to neuter a cat that was given to us. We were able to get the care we needed, without any guilt. It meant the world to us, and we will be back soon!
- Sarah P.
March 12, 2018
The staff was wonderful and I absolutely loved Dr. Wolf! She addressed all my concerns and made me feel so much better knowing my dog's health was a-okay! Thank you so much!
- Kimberly F.
March 10, 2018
Scarlet has on going cancer tumors. We have been dealing with her health issues consistently since Aug 2017. I find Dr. Sweet, Dr Rivera and Jax informative and compassionate to the issues that arise.
- Melanie B.
March 9, 2018
Our family had concerns for our, "Little Girl", "Pearl" and you immediately spoke to us with kindness, understanding and addressed each of our concerns. Your high level of care gave our family a peace of mind. Now she is doing great! Thank you, Ox
- Jerry C.
March 4, 2018
Your staff is very caring and responsive. They love what they do and it shows!
- Marguerite R.
March 3, 2018
I have an older dog who's had many health problems over the past 4 yrs or so. I wouldn't take her anywhere else. Every one of the vets at this practice are phenomenal.
- Tifannie W.
March 1, 2018
Dr. Wolf evaluated both our dogs. Your team is always amazing and Dr Wolf really helped us understand the dog flu situation and make a decision on the vaccine. She also identified the need for medication to treat Zoe's eyes.
- Liz C.
March 1, 2018
Dr Yokoi very accommodating as we figure out how to best handle our dog's new challenges.
- Carole N.