Client Testimonials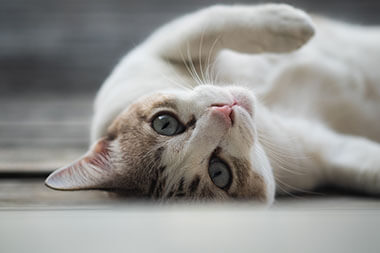 Nov 28, 2017
Everyone was SO amazing. All of the staff were friendly and knowledgeable. Our dogs mean the world to us and it's so reassuring to be helped by people who actually care. Dr. Wolf and Chris did a fantastic job. Thank you again. :)
- Hannah B.
Nov 25, 2017
I am extremely pleased that the vets and staff understand and love bulldogs! My baby is plagued with skin infections constantly, and Blue Ravine Animal Hospital's vets and staff have been very kind and supportive with all his care.
- Sheila P.
Nov 30, 2017
Dr. Rivera was very thorough, and spent ample time examining Remy, asking questions and discussing possible causes and solutions to his health problems (pending his lab results), Lauren, the veterinary assistant, was friendly and competent.
- Carolyn H.
Nov 30, 2017
The vets and techs are all so warm and kind. They clearly love what they do and show genuine care and concern for our pets. I'm so thankul we found Blue Ravine, wouldn't entrust our fur babies to anyone else!
- Julie P.
Nov 30, 2017
Very impressed with Dr. Rivera! I really felt like she was honest and had my pet's best interest in mind. I like not feeling pressured to purchase products from the office but encouraged to do my own research about her suggestions for my pet.
- Unknown
Nov 25, 2017
Nov 24, 2017
Always friendly, professional service in a clean and professional environment.
- Steve P.
Nov 24, 2017
They love animals and were able to get reactions out of my dog that I can't get. Other vets have tried to get x-rays and couldn't! They did and explained everything so I understood.
- Unknown
Nov 21, 2017
Thank U to all who were there to care for and understand Peter's needs during an ER surgery visit 11/18, specifically, Dr. Rivera, Angel, Jessie, Kathy, and Ann. Your care was 10 star to a very frail & sensitive 16 year old dog. To Dr. Yokoi as well.
- Tina G.
Nov 18, 2017
I feel listened to and better after the visit. I feel like the staff always cares as much as I do about my pets.
- Unknown
Nov 17, 2017
Abby is my labradoodle who has been getting groomed by Misty since she was a puppy and is now 10. I wouldn't go to anyone else and Misty is incredible, plus I can tell she loves what she does. Also, the staff is always very professional and friendly.
- Terry O.
Nov 16, 2017
Dr. Rivera is awesome. She knows her stuff and is always friendly, a good listener, and answers all of our questions. Your entire staff is wonderful and welcoming! Thank you!
- Unknown
Nov 16, 2017
Dr. Rivera is great! Actually, everyone associated with the hospital is awesome. My Mozart and I are treated with compassion. I would not take Mozart anywhere else.
- Patti M.
Nov 14, 2017
Extremely caring, competent and compassionate staff, from the front desk, to the assistants to the techs to the docs. Special shout out to Kayla and Dr. Wolf for service and kindness above and beyond the call of duty! Jax and I thank you!
- Mitchel B.
Nov 14, 2017
My dog came in for grooming. Misty is the best!
- Sharon S.
Nov 11, 2017
Dr. Sweet is very kind and caring. We have been with Blue Ravine since 2009. VERY SATISFIED.
- Denise R.
Nov 11, 2017
Always kind and professional!!
- Connie C.
Nov 11, 2017
We just moved to the area and Blue Ravine was recommended. Great experience! I feel like we're in very good hands. Dr. Thomas took extra time to answer questions and get to know us. Very happy!
- Jennifer B.
Nov 10, 2017
I have been using this vet for 10 years now and I have always felt that Louie is their priority...
- Rebecca C.
Nov 6, 2017
Always pleased with the care my dog gets at Blue Ravine Animal Hospital. Everyone is friendly and very professional. They have an abundance of patience and love for my very vocal Greyhound Virgil.
- Cheryl M.
Nov 5, 2017
When you walk in you can feel the compassion for the animals.
- Unknown
Nov 2, 2017
We just love this clinic! Staff, Vet techs, and Veterinarians are always so nice!!! We refer everyone to you! Thanks for being so fantastic! You'll be our Furever place to bring our four legged family members!
- Lindsey P.
Nov 1, 2017
Courteous, knowledgeable service. Staff always goes above & beyond.
- M.J. M.
Oct 29, 2017
I have received awesome prompt care for my cats whenever we come- important because they don't love coming.....
- Unknown
Oct 30, 2017
Always answer my questions and concerns. Available to see her quickly when something is wrong.
- Unknown
Oct 27, 2017
Have known DR. Sweet for maybe 25 years or so and love her..... so much so I drive 45 minutes to get to the clinic.
- Dorothy S.
Oct 27, 2017
Excellent. Beautiful facility and staff.
- Unknown
Oct 26, 2017
Weekend and evening hours, doctors take time with patients.
- Unknown
Oct 24, 2017
We have been coming for over 10 years even though it's a little more expensive than other clinics when you have Bulldogs you want the best and that's Blue Ravine. We love the staff, Michelle, Patti and Dr Wolf in particular.
- Nicole H.
Oct 23, 2017
I chose the best for our dog.
- Unknown
Oct 24, 2017
I'm always able to get my dogs in to be seen within a reasonable amount of time and a time that works for me. Also they make the animals feel comfortable before examining them.
- Nicole K.
Oct 21, 2017
The staff really care about your fur babies!
- Kim C.
Oct 16, 2017
Your first concern is always out four legged family member!
- Steve O.
Oct 16, 2017
Always personable.
Debbie D.
Oct 15, 2017
Dr. Thomas and the entire staff were caring, listened to our concerns, and gave us several options for treatment.We were extremely happy with the results and will continue to bring our pet here, even though we live 30 minutes away.
- Debby H.
Oct 15, 2017
B.R.A.Hosp has been our go-to clinic for our now 3 yr old, rambunctious Border Terriers since they were 6 wk old pups. Each illness & injury & has been treated properly, kindly & successfully. Thanks to entire staff & fav vet Dr Jackie Thomas!
- Leslie R.
Oct 14, 2017
Always confident they will help.
- Unknown
Oct 11, 2017
Dr. Rivera and all the staff have been great at explaining and giving treatment options. I come here based off of a friend's recommendation and I wholeheartedly recommend Blue Ravine Pet Hospital to everyone with pets.
- Unknown
Oct 11, 2017
I received a follow-up call the next day from the surgeon checking to make sure my pet was doing well. They seemed genuinely concerned. Also, the office always is very clean and never has a bad odor. The staff are all customer focused and friendly!
- Bernadette M.
Oct 10, 2017
The entire staff was amazing! They were very caring and showed genuine concern for an animal most people would have just shot with even lesser injuries. They saw my hen at the end of the day & stayed late to perform procedures on her...Dr Wolfe ROCKS
- Serena S.
Oct 9, 2017
We've been going there for years. Always a great experience.
- Aaron B.
Oct 5, 2017
Everyone is caring and friendly.
- Susan L.
Oct 3, 2017
The staff was knowledgeable and courteous. They treated our dog like he was one of their own. They listened to our concerns and explained his treatment in Lyman's terms so we were able to properly care for him when we got home.
- Unknown